I only posted about my
March new year's resolution
project last week because I had to wait for the post to go live on the Fiskars website, and today I'm bringing you my April project! You can read all about it by
clicking here
.
I used a pattern designed by a lovely girl called Tasia who is the brains (and no doubt, blood, sweat and tears) behind
Sewaholic
. I was not only drawn to her
amazing patterns
but she also lives in Vancouver where I had the pleasure of going last November and I loved everything about the city. I used the Crescent Skirt pattern which comes in 3 variations. Tasia is obviously an incredible and experienced sewer and I learnt so much by making this pattern and also by reading the sewalong she wrote to go with it. I picked up several cool little sewing tricks of the trade.
I'd really like to make her
Minoru Jacket
someday, when I have the time and the appropriate weather. Look how nice it is. I'm torn between the hoodie version and the high collar one. Perhaps I'd have to make both.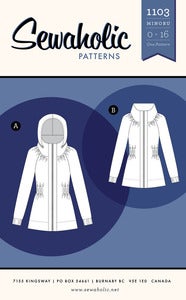 Anyway, as you can see I used the Echino London print for this skirt. Being English, I'm pretty happy that my country is hosting the Olympics Games this year, but living in California, I feel I'm missing out on some of the fun in the lead up to the start of the games by not being there and I'm not even a sports fan really. My new skirt is cheering me up though. Are you even giving the Olympics a second thought?
Happy April! And btw, did you see my
fool video
? That was fun to make.